A message of thanks
Nov 23, 2021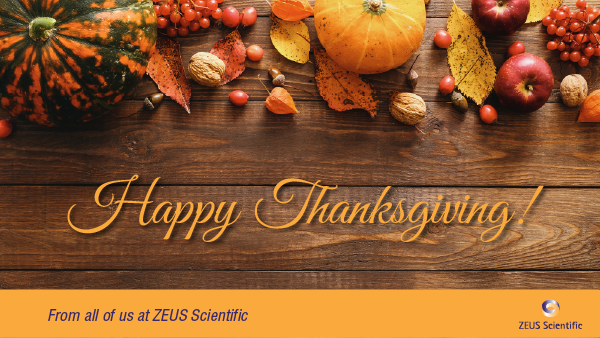 This Thanksgiving, we are filled with hope and gratitude, realizing that we continue to stand tall because of the continuous support we receive from you - our customers, our partners, our employees, and our friends.  For that we are forever grateful.
We bring over 40 years of experience in developing and delivering diagnostic test solutions and we pride ourselves in the quality of our products.  We thank you for your business and partnership and are here to support you when you need it to make the holidays a little less stressful for you, your clients, or your patients.
A reminder that ZEUS Scientific offices and manufacturing facilities will be closed at noon on Wednesday, Nov. 24 and all day Thursday and Friday, Nov. 25 and 26 in observance of the Thanksgiving holiday.  While our offices are closed, our technical service team is here to support you from 7:45am - 8:00pm EST all three days.
Have a happy and safe Thanksgiving.​​
Sincerely,
The ZEUS Scientific family
Back
Share