Do you want to detect nearly double the cases of early Lyme disease?
Jan 6, 2023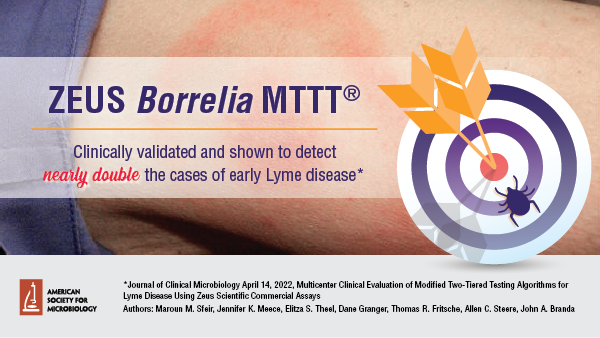 ZEUS Scientific's Borrelia MTTT® algorithms demonstrate
increased sensitivity in detecting cases of early Lyme disease
in a multicenter clinical evaluation
A multicenter clinical evaluation of ZEUS Scientific's Modified Two-Tiered Testing (MTTT) algorithms was recently published in the Journal of Clinical Microbiology.*  The clinical evaluation included testing of 376 archived samples as well as 2,932 prospective samples collected at three clinical laboratories.
Key findings include:
The study data demonstrated that, when compared to the Standard Two-Tier Testing (STTT) algorithm, both ZEUS MTTT algorithms "provided increased sensitivity in EM (erythema migrans) patients, comparable sensitivity in later disease and non-inferior specificity*".
"Both MTTT algorithms were significantly more sensitive in patients with acute EM compared with STTT.  The difference was most pronounced with MTTT-2, using this approach, the number of EM cases detected nearly 

doubled 

in comparison with STTT (74% versus 41%)"
"In summary, this multicenter study demonstrated the clinical validity of two distinct MTTT algorithms for the serodiagnosis of Lyme disease."
No more blots!
The ZEUS Borrelia MTTT algorithm consolidates both testing tiers with one ELISA method that follows ZEUS's universal protocol. See what you have been missing by using ZEUS's MTTT algorithm and replace outdated immunoblots with a 2nd tier ELISA.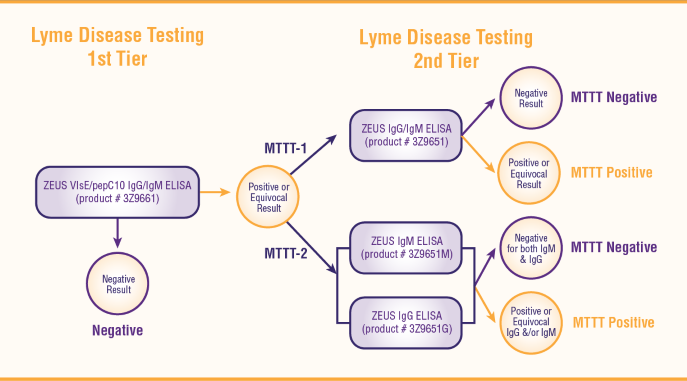 Switch today! Improve your detection of early Lyme disease with ZEUS Borrelia MTTT
ZEUS's clinically validated Borrelia MTTT algorithms follow CDC recommendations for serological diagnosis of Lyme disease and are FDA cleared for this purpose
---
Trust the experts in Lyme disease testing.

Test with Confidence. Test with ZEUS.
---
Simplify and improve your Lyme disease testing. Learn more at zeuslyme.com or email us at sales@zeusscientific.com.
Best,
The ZEUS Scientific Team
*Journal of Clinical Microbiology April 14, 2022, Multicenter Clinical Evaluation of Modified Two-Tiered Testing Algorithms for Lyme Disease Using Zeus Scientific Commercial Assays
Authors: Maroun M. Sfeir, Jennifer K. Meece, Elitza S. Theel, Dane Granger, Thomas R. Fritsche, Allen C. Steere, John A. Branda
Back
Share