Find mitotic cells with one click with ZEUS dIFine®
Oct 14, 2022
Identifying Mitotic Cells in One Click with ZEUS dIFine®
We know seeing is believing.  Let us give you a closer look at one of the many user-friendly features packed into the ZEUS dIFine System: the mitotic gallery. Locating mitotic cells is typically a time-consuming process and is required to confirm many ANA HEp-2 patterns. The ZEUS dIFine System allows you to identify and locate mitotic cells with one click, allowing for easy pattern validation.  Save yourself time with the ZEUS dIFine!
Don't take our word for it - see it for yourself!
Watch the clip below to take a closer look at the mitotic gallery in action, one of the many user-friendly features packed into the ZEUS dIFine System.
Once the slide scan is complete, dIFine's one-click identification allows you to automatically identify and display the exact location of mitotic cells in the well. With scans averaging less than 30 sec/well, you are sure to save time with ZEUS dIFine!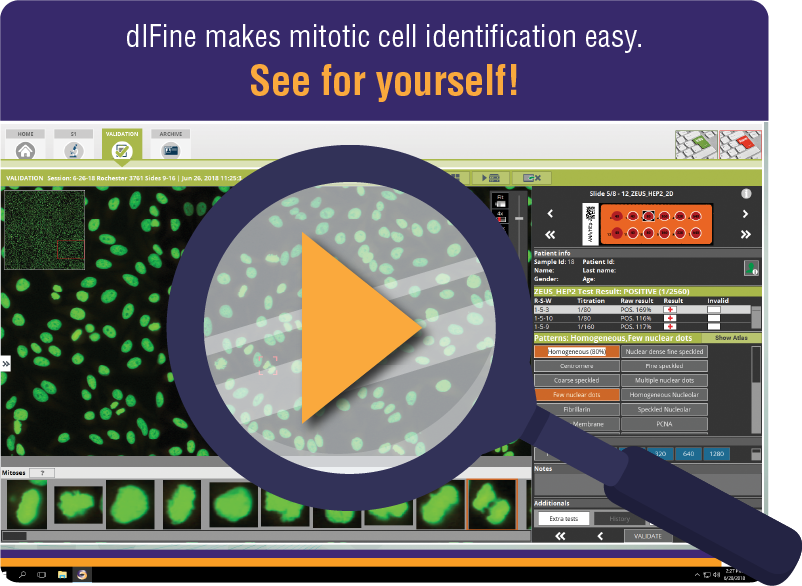 ZEUS is defining the future of IFA imaging
ZEUS dIFine is the next generation in IFA imaging and pattern recognition system.  An automated digital scanner with intelligent software, it is designed to acquire, analyze, display and store digital images of ZEUS HEp-2 IFA slides*.  ZEUS is taking your ANA IFA testing to the next level by pairing our top tier IFA ANA HEp-2 products with our dIFine system and quickly delivering positive/negative results and interpretation of 8 distinct ANA HEp-2 patterns:  homogenous, speckled, centromere, nucleolar, nuclear dots, nuclear membrane, cytoplasmic (ribosomal) and cytoplasmic (mitochondrial).*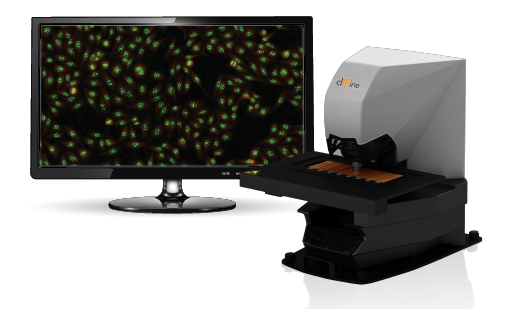 Test with Confidence. Test with ZEUS.     
 
There is so much more to see. Schedule your in-person or virtual dIFine demo today!  Contact our sales team and learn more at www.zeusscientific.com/difine.
Best,
The ZEUS Scientific Team
* FDA 510(k) cleared. All suggested results obtained with ZEUS dIFine must be confirmed by a trained operator.
Back
Share