Now Shipping! ZEUS Rapid SARS-CoV-2 Antibody Test
May 8, 2020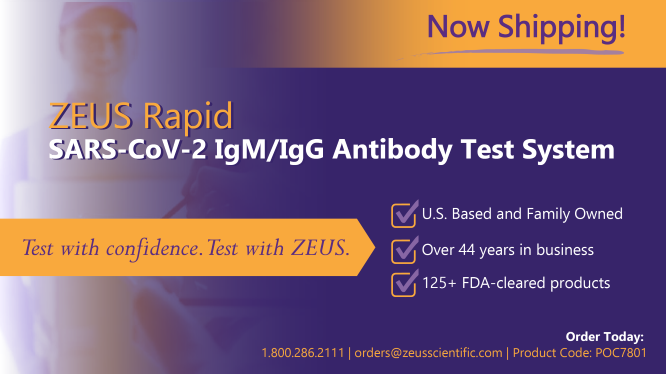 ZEUS Rapid SARS-CoV-2 IgM/IgG Antibody Test System Now Shipping
ZEUS Rapid SARS-CoV-2 IgM/IgG is validated, in stock and available to ship immediately. ZEUS Scientific has heard your requests for help and is committed to providing easy-to-use solutions that will help address the public health threat posed by COVID-19.
Clinical data on file demonstrates ZEUS Rapid SARS-CoV-2 IgM/IgG detects SARS-CoV-2 antibodies in PCR positive patients beginning at 4 days after diagnosis and maintains 98.9% specificity in a healthy population, reporting IgM and IgG results individually.
Get accurate and reliable IgG and IgM detection in 15 minutes.   
Order Today: call 1.800.286.2111 or email orders@zeusscientific.com and ask for Product Code POC7801.
Questions? We have answers. Visit ZeusCovid.com or email sales@zeusscientific.com to ensure you are able to order today! 
Sincerely,
The ZEUS Scientific Family
Back
Share