The Perfect Pair: ZEUS dIFine® and ZEUS HEp-2 IFA slides
Feb 18, 2022
ZEUS ANA HEp-2 IFA slides & ZEUS dIFine®*
As a pioneer in indirect fluorescent antibody (IFA) technology, ZEUS has continually delivered quality products and expertise in autoimmune serology that laboratories have relied upon since 1976. With over 45 years of expertise in autoimmune serology, ZEUS ANA HEp-2 slides are well known as the clear choice.
ZEUS's quality of ANA HEp-2 IFA is a trusted industry benchmark
Bright, crisp and distinct substrate, enabling easier pattern discrimination
Clean and clear background with natural cell morphology and cells that are perfectly distributed
Detection of rare patterns such as "rods and rings" often missed by others
| | |
| --- | --- |
| | |
| Photo credit: ZEUS IFA-ANA HEp-2 slide demonstrating rods and rings (ICAP AC-23) | Photo credit: ZEUS IFA-ANA HEp-2 slide demonstrating nuclear dots (ICAP AC-6,7) |
The best in class ANA HEp-2 slides are now perfectly paired with ZEUS dIFine
ZEUS dIFine is the next generation in IFA imaging and pattern recognition system with an automated digital microscope and intelligent software designed to acquire, analyze, display and store digital images of ZEUS ANA HEp-2 IFA slides.
Take your testing to the next level with our dIFine system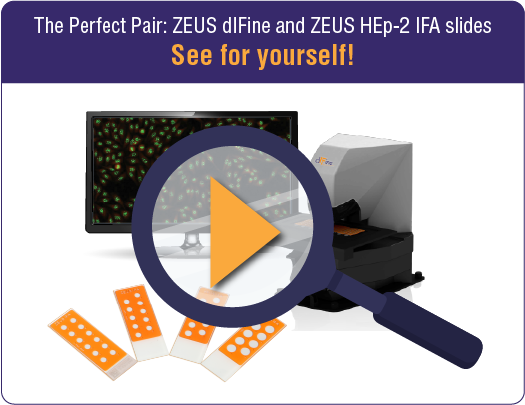 Bring the fast, easy and automated dIFine digital scanner to your lab.
Automated acquisition, analysis, display and storage of dIFine images
Fast positive and negative results (less than 30 seconds per well)
8 distinct HEp-2 patterns automatically called: homogenous, speckled, centromere, nucleolar, nuclear dots, nuclear membrane, cytoplasmic (ribosomal) and cytoplasmic (mitochondrial)*
Instant mitotic cell identification and location
High level review and batch release of negative samples
On-board HEp-2 atlas loaded with images of ZEUS ANA HEp-2 patterns provides side-by-side reference aligned with ICAP nomenclature
Small footprint like a traditional microscope easily fits into any laboratory space
Test with Confidence. Test with ZEUS.
See the perfect pair for yourself and schedule your demo today!
Contact our sales team and learn more at www.zeusscientific.com/difine.
Best,
The ZEUS Scientific Team
Please note our new technical support service hours.
*For Investigational Use Only. The performance characteristics of this product have not been established. Pending US FDA 510(k) clearance. All suggested results obtained with ZEUS dIFine must be confirmed by a trained operator.

dIFine is a registered trademark of ZEUS
ICAP = International Consensus on ANA Patterns
Back
Share