The ZEUS smart automation solution for SARS-CoV-2 antibody testing
Mar 16, 2021
Two Antigens = Twice the Confidence
Now is the perfect time to partner with ZEUS Scientific for your SARS-CoV-2 antibody testing, and put the power of our dual antigen design to work in your laboratory with full automation right out of the box.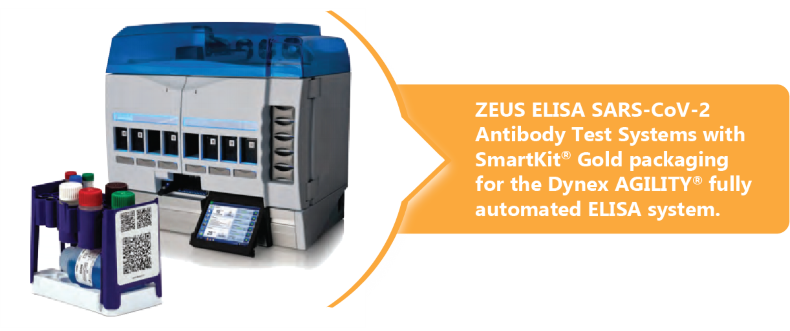 The power of combining the ZEUS ELISA SARS-CoV-2 Antibody Test Systems and the Dynex AGILITY® fully automated ELISA system is in the details. The ZEUS ELISA SARS-CoV-2 Test Systems contains antigens to both the SARS-CoV-2 Nucleocapsid protein and Spike protein (S1-RBD) on the ELISA plate. The combination of both antigens demonstrated excellent assay sensitivity and specificity in the detection of antibodies in serum and plasma. This design also allows for detection of antibodies produced by a natural SARS-CoV-2 infection and/or from vaccination. Both the ZEUS ELISA SARS -CoV-2 IgG and Total (IgG, IgM, IgA) Antibody Test Systems follow the ZEUS universal ELISA assay protocol for easy incorporation with your existing test menu and are provided in SmartKit® Gold packaging for easy loading onto the Dynex AGILITY® System.
The combination of the ZEUS unique dual antigen design, SmartKit® Gold packaging and the Dynex AGILITY® fully automated ELISA System provides faster results reporting, increased productivity and frees up your laboratory personnel with a throughput that meets all laboratory requirements. This is the ZEUS smart solution for your SARS-CoV-2 antibody testing.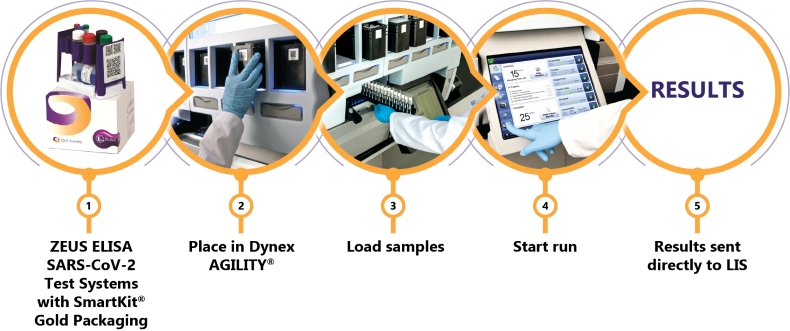 Unique ZEUS dual antigen assay design recognizes antibodies to both the N-protein and the S1-RBD proteins of SARS-CoV-2, allowing for detection of antibodies produced by a natural SARS-CoV-2 infection and/or from vaccination.
Simple direct loading with SmartKit® Gold Packaging reduces costs associated with disposable plastics and avoids data entry errors, ultimately saving technician's time.
High throughput (up to 810 reportable results/8 hours) provides fast results in formats that fit the laboratory's needs.
Traceability with 2D Barcoding throughout the workflow eliminates transcription errors and adds confidence to your results.

The ZEUS ELISA SARS-CoV-2 IgG Test System has FDA Emergency Use Authorization for the qualitative detection of IgG antibodies to SARS-CoV-2 virus in human serum and plasma and includes automated processing on the Dynex AGILITY® automated ELISA System. The Agility offers high throughput and takes advantage of the SmartKit® Gold packaging, providing the ability to fully automate the procedure from sample to result in a throughput meeting all laboratory requirements.
The ZEUS ELISA SARS-CoV-2 Total (IgG, IgM, IgA) Antibody Test System has been validated per FDA EUA guidelines and submitted to the FDA. Both ZEUS ELISA products are available today.
---
Test with Confidence. Test with ZEUS.
---
The Dual Antigen Difference: Specificity Matters
S1-RBD: The surface glycoprotein of the virus, termed the spike (S) protein, mediates attachment of the virus to human cells via its receptor‐binding domain (RBD)1 and mediates fusion of viral and cellular membranes. Antibodies binding to the spike protein, and especially to the RBD domain, can neutralize SARS-CoV-2.

N-Protein: The nucleocapsid protein (N-protein) is the most abundant protein in coronavirus. The N-protein is a highly immunogenic phosphoprotein, and it is normally very conserved.  The N protein of coronavirus is often used as a marker in diagnostic assays. 
ZEUS's dual antigen approach is unique as most available tests are limited to one or the other. By detecting antibodies directed against both the highly immunogenic N-protein and the neutralizing S1-RBD our assay is optimized for superior sensitivity and specificity. Also by design our assay will detect antibody produced by a natural SARS-CoV-2 infection and/or vaccination.

Contact your sales representative today!
Sincerely,
The ZEUS Scientific Family
1 Wrapp et al. Cryo-EM structure of the 2019-nCoV spike in the prefusion conformation. Science 367, 1260-1263 (2020).
2 Taken from Peiris et al. Severe acute respiratory syndrome. Nature Medicine Vol 10 (12) (2004).
FDA EUA Disclaimer: This test has been authorized only for the presence of IgG antibodies against SARS-CoV-2, not for any other viruses or pathogens. This test has been authorized by FDA under an EUA for use by authorized laboratories. This test has not been FDA cleared or approved; This test is only authorized for the duration of the declaration that circumstances exist justifying the authorization of emergency use of in vitro diagnostics for detection and/or diagnosis of COVID-19 under Section 564(b)(1) of the Food, Drug and Cosmetic Act, 21 U.S.C. § 360bbb-3(b)(1), unless the authorization is terminated or revoked sooner.
Back
Share