We have you covered: Introducing the dIFine 30 system for IFA
Mar 17, 2023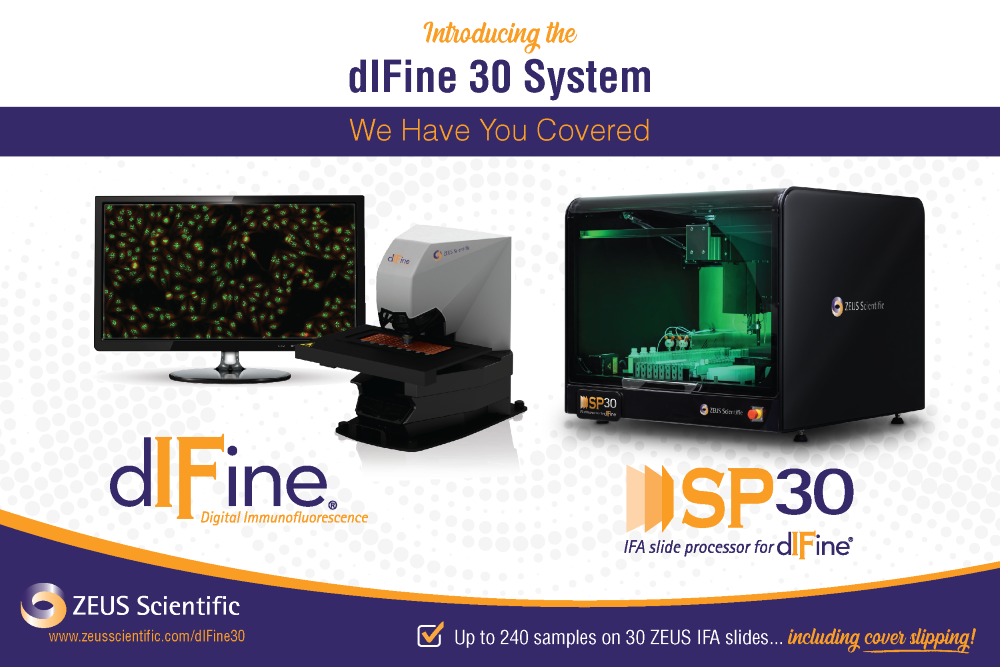 ZEUS Scientific's dIFine 30 System:
a complete system for IFA slide processing
and digital immunofluorescence imaging
A powerful partnership at your fingertips
Pair our next-generation digital IFA imaging and interpretation system with our easy-to-use and efficient walk-away benchtop instrument for IFA slide processing ...including cover slipping!
  SP30: Slide Processor for dIFine®
 Your lab is focused on many things: efficiency, accuracy and more importantly – productivity. Now, you can increase your lab's productivity with our fully automated IFA slide processor for dIFine digital immunofluorescence system, so you can focus your time and attention where it matters.
The SP30 is an easy-to-use, walk-away IFA slide processor for dIFine designed to improve laboratory workflow and ensure high-quality results.
 Processes up to 240 slides on 30 IFA slides ...including cover slipping!
   
 A 3-probe system for fast, accurate pipetting and slide well washing
 User friendly, intuitive software for instrument ease of use
Multi-drop individual well-to-well slide washing eliminates the risk of carry over or cross contamination 
 Easy interface with your LIS to receive test requests and share the worklist with the dIFine digital immunofluorescence system 
  dIFine Digital Immunofluorescence: Defining the Future of IFA Imaging
 ZEUS dIFine is the next-generation in IFA imaging and pattern recognition. An automated digital scanner with intelligent software, it is designed to acquire, analyze, display and store digital images of ZEUS HEp-2 IFA slides.*
 Quick positive / negative determination performed as the system is scanning each well
  
 State-of-the-art image acquisition for accurate pattern identification
 Mitotic cell identification and location with one click
Intelligent, intuitive, and easy-to-use software programmed to suggest eight common ANA patterns: homogenous, speckled, centromere, nucleolar, nuclear dots, nuclear membrane, cytoplasmic (ribosomal) and cytoplasmic (mitochondrial)*
  
Built-in ZEUS Scientific pattern atlas aligns with ICAP patterns, providing an instant and customizable reference for calling patterns and for training purposes
Test with Confidence. Test with ZEUS.
There is so much more to see.
Contact our sales team and learn more at www.zeusscientific.com/difine30.
Best,
The ZEUS Scientific Team
* FDA 510(k) cleared. All suggested results obtained with ZEUS dIFine must be confirmed by a trained operator.
PRESS RELEASES:
Back
Share