Why ZEUS is the right choice for your ANA Hep-2 IFA testing
Nov 10, 2020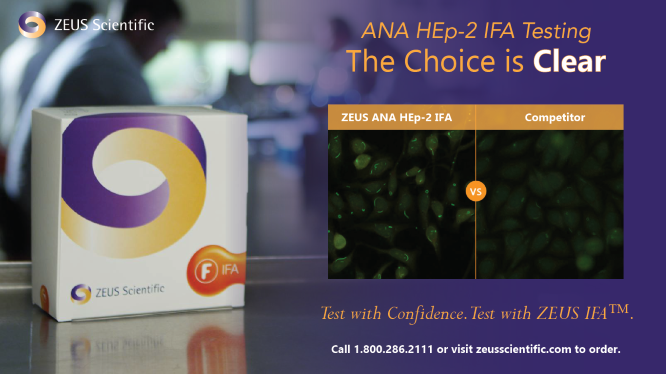 See the Quality Only ZEUS Can Deliver!
With over 40 years of experience, ZEUS Scientific continues to be a pioneer in immunofluorescence assay (IFA) technology delivering quality and expertise in ANA HEp-2 IFA testing that laboratories have relied on since 1978.


The clinical importance of ANA Testing
Autoimmune diseases are a diverse group of disorders and are thought to be on the rise in the United States. Identifying autoimmune disease and the appropriate treatment early can make a difference in a person's health trajectory. Antinuclear antibodies (ANA) are a common biomarker of autoimmune disease and are autoantibodies produced by a person's immune system when it fails to adequately distinguish between "self" and "non-self". As patients present with symptoms, physicians can use ANA testing to assist in patient diagnosis and determination of the appropriate treatment.

ANA HEp-2 IFA has been used extensively to aid in the diagnosis of suspected autoimmune disorders or rule out other conditions with similar signs and symptoms. A clinical reference is useful for diagnosis, the International Consensus on ANA Patterns (ICAP) initiative publication provides consensus on the clinical relevance of the 29 distinct HEp-2 IIFA patterns. This clinical relevance is primarily defined within the context of the suspected disease and includes recommendations for follow-up testing. The discussion includes how this information may benefit the clinicians in daily practice and how the knowledge can be used to further improve diagnostic and classification criteria.


ZEUS's quality of ANA HEp-2 IFA is an industry benchmark that aligns with ICAP
Bright, crisp and distinct substrate, enabling easier pattern discrimination

Clean and clear background with natural cell morphology and cells that are perfectly distributed

Detection of rare patterns such as "rods and rings" often missed by competitors
Clear and crisp staining help visualize the various degrees of speckling associated with different stages of the cell cycle
| | |
| --- | --- |
| ZEUS IFA-ANA HEp-2 slide demonstrating proliferating cell nuclear antigen (PCNA) | Notice in this image of a PCNA sample, the wide diversity of cells in various cell cycle stages indicative of a rapidly growing culture.  The even cell distribution and the crisp fixation of cellular organelles demonstrates ZEUS's ability to produce superior quality slides that, in this case, aligns with the ICAP description of AC-13 PCNA-like pattern.   This pattern is characteristically described as pleomorphic speckled nucleoplasmic staining, with variability in size and brightness of the speckles. In interphase, some cells are negative, some are intensely stained and some present rare and scattered speckles with occasional nucleolar staining. Mitotic cells are not stained. |
Easily identify and interpret cytoplasmic staining patterns
| | |
| --- | --- |
| ZEUS IFA-ANA HEp-2 slide demonstrating cytoplasmic reticular/antimitochondrial antibodies (AMA) | In this example of antimitochondrial antibody (AMA), notice the picture perfect granular filamentous cytoplasmic staining, due to ZEUS Scientific's optimal growth and fixation conditions. By easily identifying AMA, ZEUS HEp-2 slides provide an aid in the diagnosis of systemic autoimmune disorders outside of those exclusively associated with anti-nuclear antibodies. This aligns with the ICAP description of AC-21 Cytoplasmic reticular/AMA as coarse granular filamentous staining extending throughout the cytoplasm. e.g. anti-mitochondrial antibodies. |
Straightforward identification of antibodies against distinct cellular organelles with ZEUS HEp-2 slides
| | |
| --- | --- |
| ZEUS IFA-ANA HEp-2 slide demonstrating Polar/Golgi-like | Developing a fixation process that maintains the morphology and immunoreactivity of each and every cellular component is not easy. But at ZEUS Scientific, we don't worry about easy, we focus on quality and consistency. Clear alignment with the ICAP AC-22 Polar/Golgi-like description of discontinuous speckled or granular perinuclear ribbon-like staining with polar distribution is evident. |
Distinctive visualization of the rods and rings pattern with ZEUS's unique cell growth and fixation process
| | |
| --- | --- |
| ZEUS IFA-ANA HEp-2 slide demonstrating Rods and rings | Not every commercial ANA HEp-2 substrate is capable of detecting the rods and rings pattern. At ZEUS we have perfected the combination of nutrition and fixation that enhances our ability to visualize the cell's autoantigens. These clear images aligns with the ICAP AC-23 Rods and rings description of distinct rod and ring structures in the cytoplasm of interphase cells. Some smaller rods and rings also reported in the nucleus. |
Partner with ZEUS and put the ZEUS IFA™ Advantage to work in your ANA HEp-2 IFA laboratory
Our proprietary cell fixation process produces cells containing natural unaltered antigens ensuring clear consistent pattern detection.

Spend less time locating mitotic cells thanks to our higher proportion of mitotic cells.

Efficient user-friendly components

Large scale production batches reduce lot changes
ZEUS dIFine® the Next Generation in Digital IFA Imaging and Interpretation - submitted to the FDA
The best slides deserve the best in class automation. We are taking your ANA IFA testing to the next level by pairing our IFA ANA HEp-2 with our dIFine® system.

ZEUS dIFine® is the next generation in IFA imaging and pattern recognition system with an automated digital microscope and intelligent software designed to acquire, analyze, display and store digital images of ZEUS HEp-2 IFA slides*.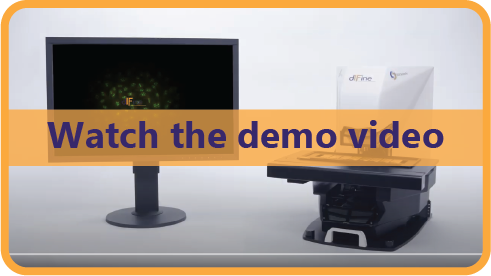 *For Investigational Use Only. The performance characteristics of this product have not been established. Pending US FDA 510(k) clearance.
Visit our website for more information.

Best,
The ZEUS Scientific Team
Back
Share