ZEUS putting patients first - Lyme Disease Testing History
May 20, 2021

Learn how Lyme disease was first identified and ZEUS's role in moving testing forward
We continue our series during this year's National Lyme Disease Awareness Month with a focus on the history of Lyme disease and how Lyme disease testing has evolved to improve early detection. 
Lyme disease originated as an undiagnosed disease in Lyme, Connecticut in the 1970s and is still often undiagnosed today. In 1975 Dr. Allan Steere characterized this disease as Lyme disease, but it wasn't until 1981 that Dr. Burgdorfer discovered that a bacterium carried by deer ticks was causing Lyme disease. To honor the discovery of this new spirochete, in 1982 the scientific community via the National Institute for Allergy and Infectious Diseases (NIAID) named the bacterium Borrelia burgdorferi.
Diagnostic Testing for Lyme disease initially started with insensitive direct detection of Borrelia and moved to Borrelia-specific antibody (also called serology) testing, which has become the mainstay. ZEUS Scientific developed and distributed the first FDA-cleared Lyme disease serology test in 1987 and has continued to drive the development of new and improved testing options for Lyme disease detection.  ZEUS used various technologies including the Western blot following the 1994 Banbury conference where immunoblots were recommended as a second tier test to help improve the results. ZEUS also recognized the need to improve testing beyond this and was the first to submit to the FDA the updated MTTT concept, and most recently in 2019, ZEUS obtained the first FDA-clearance for the Modified Two-Tiered Testing (MTTT) algorithm using its proprietary ELISA dual antigen assay design and the ZEUS universal ELISA method.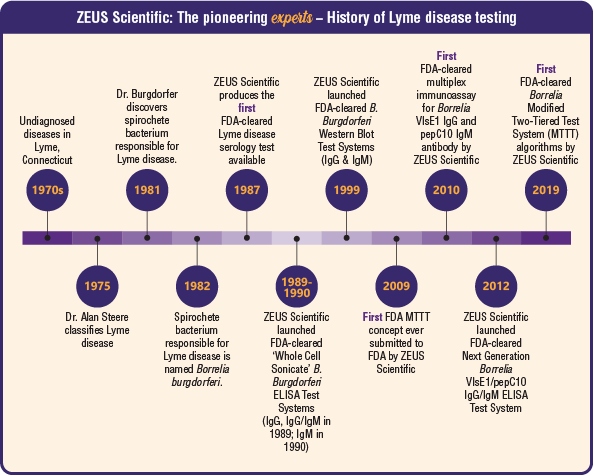 Watch as Dr. Raymond Dattwyler, Professor of Microbiology and Immunology at New York Medical College discusses the important benefits of ZEUS Borrellia MTTT.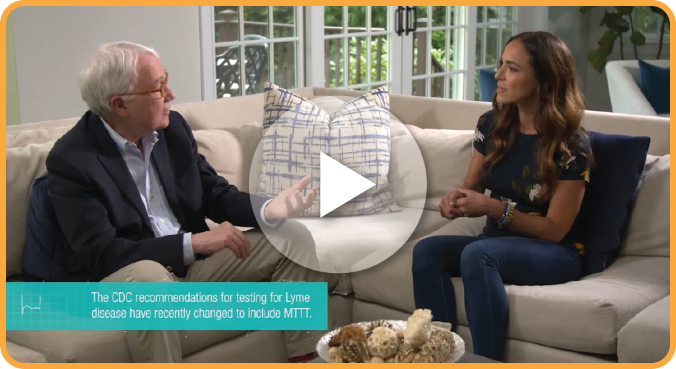 ZEUS Borrelia MTTT Advantages
Reduces the number of missed clinically positive patient samples
Removes burden of blots and subjectivity of readings
Enables simple and flexible first tier and second tier testing
Improves overall lab workflow and cost efficiencies, eliminating send-outs
Improves turnaround time
---
 Test with confidence.
Test with ZEUS, the pioneering experts of Lyme disease testing.
---
See what you've been missing.  Contact ZEUS today!
Visit zeuslyme.com, call 1.800.286.2111, or email orders@zeusscientific.com.
Best,
The ZEUS Scientific Team
Back
Share