ZEUS Scientific Proven Performance Across our Menu of SARS-CoV-2 Antibody Test Systems
Jul 21, 2020

ZEUS Scientific Proven Performance Across our Menu of SARS-CoV-2 Antibody Test Systems
ZEUS has completed extensive performance testing of all three of our devices using the same three cohorts (total n=365) of clinically characterized patient samples. The study data allows for direct comparison of our entire menu of SARS-CoV-2 antibody tests and provides confidence to the laboratory in each of our three tests.



The data is summarized below and demonstrates superb assay performance as well as excellent inter assay precision.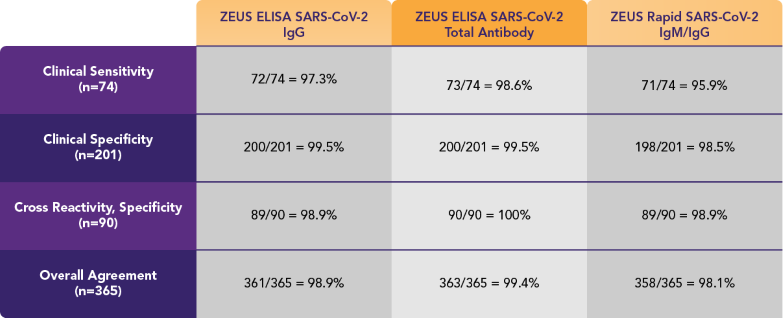 ZEUS has been developing IVD assays for over 40 years and understands there is a patient behind every result and all results matter regardless of the method or test.  Partner with ZEUS for consistency and accuracy in SARS-CoV-2 antibody testing.
We now offer three separate SARS-CoV-2 antibody test systems across two methodologies testing for IgG, IgG/IgM and IgG/IgM/IgA which can be utilized individually or combined to implement an orthogonal testing algorithm for positive results to increase positive predictive value, all from the same manufacturer.  We realize in the battle against COVID-19 one size does not fit all and are able to accommodate laboratories looking for rapid antibody testing as well as automated-friendly antibody testing. Our tests are designed to be adaptable to a wide range of applications and throughput needs.  Additionally, ZEUS has paved the road by validating our ELISA tests on Dynex's  ELISA instruments (DS2®, DSX®, Agility™).
---
Test with Confidence. Test with ZEUS.
---
For over 40 years, laboratories have trusted ZEUS Scientific to provide high quality in vitro diagnostic immunoassays for numerous infectious diseases. With over 125 FDA cleared assays in our menu, our company has a proven skillset of developing, manufacturing and distributing a family of products to aid in the diagnosis of complex infectious agents including a variety of known viral pathogens. We have concentrated our focus to the COVID-19 pandemic and the SARS-CoV-2 virus.
For more information please visit our website or contact our sales team.  To order, call 1.800.286.2111 or email orders@zeusscientific.com and ask for the following Product Codes:
Sincerely,
The ZEUS Scientific Family
Back
Share