May is National Lyme Disease Awareness Month and ZEUS is committed to getting the word out
May 6, 2022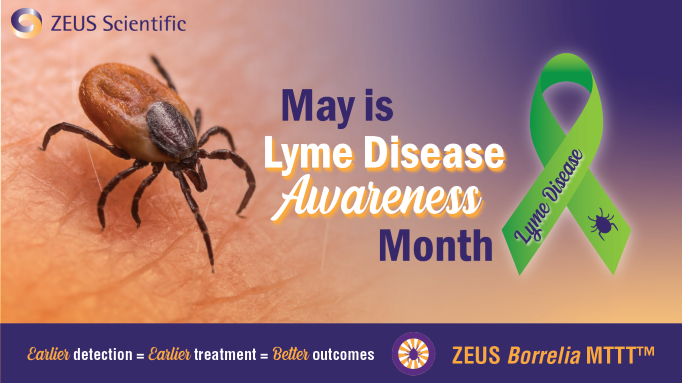 ZEUS supports National Lyme Disease Awareness Month with an educational email series
May is Lyme Disease Awareness Month, an important reminder for us all to be proactive to protect ourselves against Lyme disease, know the symptoms and if suspected get tested early using the newest and most accurate testing algorithm. To help raise awareness, we will be sharing information on Lyme disease, including key facts, testing, prevention, diagnosis and the importance of timely treatment.
Lyme disease is the most commonly reported tick-borne disease in the United States and when not diagnosed and treated early can lead to long term effects in the joints, heart and nervous system1. Its prevalence is rising, so you likely know someone personally who has been affected by Lyme disease.  It continues to be in the news with several celebrities sharing their Lyme disease stories and experiences.   They range from those who were undiagnosed for many years with symptoms ranging from vocal cord damage (singer Shania Twain2) to memory loss (Kris Kristofferson3) to debilitating long term pain (singer Avril Lavigne who even wrote a song about it called "Head above water"4).  There are many more stories that can be told, these few examples are a reminder of the importance of early and accurate Lyme disease detection and how it cannot be understated.

The ZEUS Borrelia MTTT™ algorithm detects up to 30% more early Lyme disease than the traditional methods. The ZEUS Borrelia MTTT algorithm uses the ELISA method for both testing tiers and follows ZEUS's universal ELISA protocol with flexible incubation times. This easy workflow starts with testing all submitted samples using ZEUS's unique dual antigen Borrelia VlsE1/pepC10 ELISA, followed by testing of any reactive samples with ZEUS's 2nd tier Borrelia ELISA tests, eliminating blots all together. Who would you trust for your family's Lyme disease testing?

6 Key Facts about Lyme Disease:5
Lyme disease is transmitted to humans through the bite of blacklegged ticks that have been infected typically with the bacteria from the genus Borrelia.
Cases of Lyme disease have increased and have been diagnosed in all 50 states.  The CDC recently updated their estimates6 to approximately 476,000 cases in the United States.
Typical symptoms can appear anywhere from three days to many months later and include fever, chills, headache, fatigue, muscle aches and a characteristic skin rash called erythema migrans, whose appearance can vary but sometimes resembles a bullseye.
Lyme disease diagnosis is based on symptoms, physical findings, possibility of exposure to ticks and laboratory test results.
Most cases of Lyme disease once diagnosed can be treated successfully with antibiotics, although some people experience Post-Treatment Lyme Disease Syndrome (PTLDS), with symptoms lasting longer than 6 months and no proven treatment identified.7
If left untreated, Lyme disease can become a severely debilitating illness affecting multiple organs including joints, heart, brain, and parts of the peripheral nervous system.
Partner with the experts in pioneering new and improved Lyme disease tests.

The team at ZEUS Scientific recognizes the importance of accurate Lyme disease testing and strives to make a difference for each and every patient by providing sensitive and specific tests that improve Lyme disease detection.  Faster results and earlier diagnosis provide the opportunity for better patient care.
Simple.
ZEUS Borrelia MTTT uses two rounds of ELISA tests, enabling simple and flexible first-tier and second-tier testing in-house. This allows you to consolidate your Lyme disease testing processes and streamline your workflow.
Fast.
The ZEUS Borrelia MTTT reduces turnaround time, allowing patients to access much-needed treatment earlier. Without early treatment, Lyme disease can have a devastating impact on patients.
Better.
Our updated algorithm detected up to 30% more clinically confirmed positive patients in acute early Lyme disease, the critical time to correctly identify and treat!  Reducing the number of missed clinically positive patient samples especially in early Lyme disease stages 1 and 2 can make a real difference in a person's life.
Trust the Experts in Lyme disease testing.
See what you've been missing.  Contact ZEUS today!
Visit zeuslyme.com, call 1.800.286.2111, or email orders@zeusscientific.com.
Best,
The ZEUS Scientific Team
References:
2 Wonderwall - Stars who've had Lyme disease
3 Insider - Celebrities battling Lyme disease
4 The Avril Lavigne foundation - Lyme
6 CDC Lyme disease - data and surveillance
7 CDC Lyme disease - post treatment
Back
Share