Ready for 2023? Get set to improve your Lyme disease testing!
Dec 16, 2022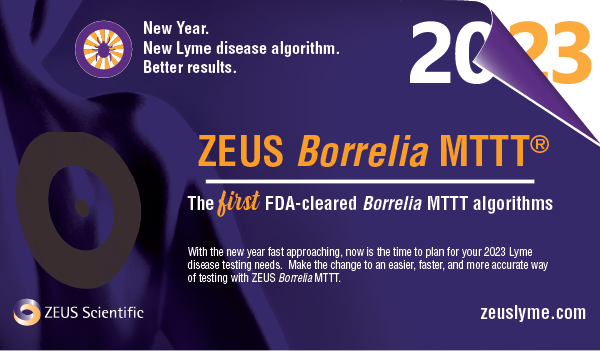 2023 Lyme disease testing resolutions
Make a difference. Help patients get treated faster.
| | |
| --- | --- |
| | Improve detection of early Lyme disease |
| | Replace outdated Lyme disease immunoblots |
| | Increase overall lab workflow and efficiency |
With only 15 days left of 2022, now is the time to get ready for the 2023 Lyme disease season by implementing ZEUS Scientific's Borrelia Modified Two-Tiered Testing (MTTT) algorithm.  Do not get left behind in 2023 using an outdated Lyme disease testing algorithm.  Let the experts at ZEUS assist your laboratory and replace difficult-to-read immunoblots all together with the first FDA-cleared Borrelia MTTT algorithm method of testing for Lyme disease.
ZEUS Borrelia MTTT™ uses two rounds of ELISA tests, enabling simple and flexible first-tier and second-tier testing in-house with an automation-friendly approach. This translates to simplified Lyme disease testing processes and improved detection of early Lyme disease.
Earlier diagnosis = earlier treatment.
The ZEUS Borrelia MTTT reduces turnaround time, allowing patients to access much-needed treatment earlier. Without early treatment, Lyme disease can have a devastating impact on patients.
Our updated algorithm detected up to 30% more clinically confirmed positive patients in acute early Lyme disease, the critical time to correctly identify and treat! Reducing the number of missed clinically positive patient samples, especially in early Lyme disease stages 1 and 2, can make a real difference in a person's life.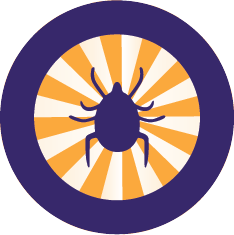 Trust the experts in Lyme disease testing.
Test with Confidence. Test with ZEUS.
Learn more about Lyme disease and the ZEUS Borrelia MTTT algorithm at zeuslyme.com.
Get started on next year's plans.  Partner with ZEUS and get ahead of the 2023 Lyme disease season today!
Best,
The ZEUS Scientific Team
Back
Share