ZEUS dIFine® ANA Hep-2 IFA Submitted to FDA
Aug 14, 2020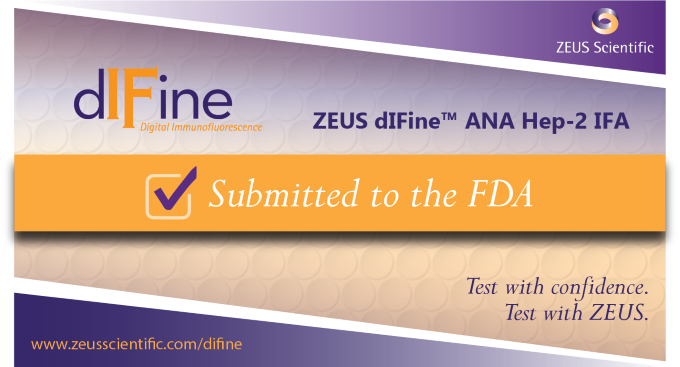 ZEUS dIFine® ANA Hep-2 IFA Submitted to FDA
As a pioneer in immunofluorescence assay (IFA) technology, ZEUS delivers quality and expertise in autoimmune serology that laboratories have relied upon since 1976.  The ZEUS IFA ANA HEp-2 slides are well-known in the industry for their superior quality.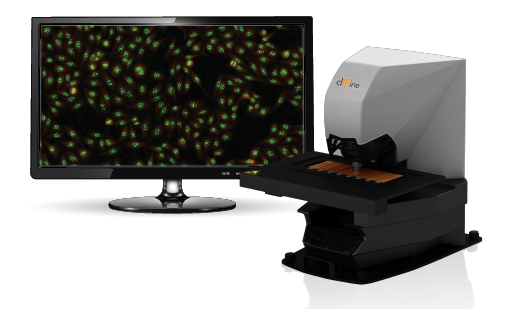 The best slides deserve the best in class automation.  We have completed the next step by submitting the ZEUS dIFine® to the FDA last month.  We are taking your ANA IFA testing to the next level by pairing our IFA ANA Hep-2 with our dIFine® system.
ZEUS dIFine® is the next generation in IFA imaging and pattern recognition system with an automated digital microscope and intelligent software designed to acquire, analyze, display and store digital images of ZEUS Hep-2 IFA slides.  A unique feature of the software automatically identifies and pinpoints the exact location of mitotic cells within the wells.  A gallery of the identified mitotic cells is provided and by selecting any image in the gallery, the software immediately identifies the location in the well.  This eliminates the need to search the well to observe mitotic cells. With so many user-friendly features you must see it to believe it!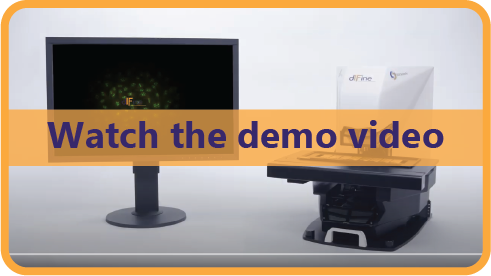 Defining Efficiency
Scans, digitizes and analyzes 96 wells in under an hour (<30 seconds/well) and begins populating the image as each well is scanned
Positive/Negative determination performed as the system is scanning each well
Small footprint with a motorized stage that holds 8 slides
Delivering Results.
Powerful analytics with a simple and intuitive user interface that improve the user experience.
Intelligent analytics quickly deliver positive/negative results and interpret up to 8 ANA HEp-2 patterns

Homogenous, Speckled, Centromere, Nucleolar, Nuclear Dots, Nuclear Membrane, Cytoplasmic (DFS/Ribo) and Cytoplasmic (AMA)
More than 100 features analyzed per cell for pattern identification

Wizard guided modules allows for multiple views of results

High level batch view
Individual slide view with thumbnail of images
Well view
Mitotic cell identification and location
Multi-analyte view for side by side comparison of images
Built-in pattern guide for side by side comparison of images
CAUTION: INVESTIGATIONAL DEVICE, LIMITED BY FEDERAL LAW TO INVESTIGATIONAL USE. PENDING U.S. FDA 510(K)
---
Test with Confidence. Test with ZEUS.
---
Now is a great time to learn more about dIFine® and take the next step with ZEUS.  For more information please visit our website or contact our sales team.
Sincerely,
The ZEUS Scientific Family
Back
Share