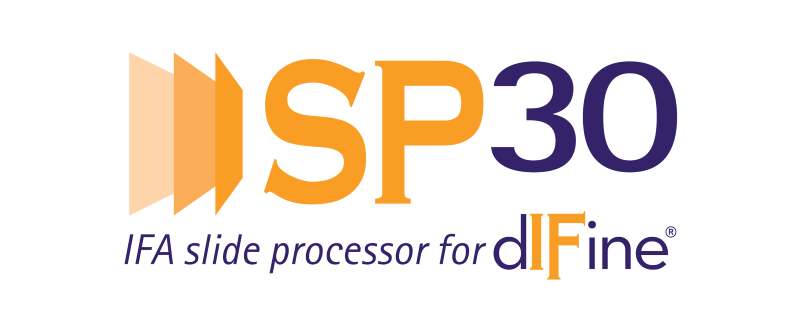 SP30 - IFA Slide Processor for dIFine®
Your lab is focused on many things: efficiency, accuracy, and more importantly – productivity. Now, you can increase your lab's productivity with our fully automated IFA slide processor for dIFine® digital immunofluorescence system, so you can focus your time and attention where it matters.

The SP30 is an easy-to-use, walk-away IFA slide processor for dIFine designed to improve laboratory workflow and ensure high-quality results.
Accurate, Fast Processing to Improve Laboratory Workflow
Ability to process up to 240 samples on 30 ZEUS IFA slides
Carefully dispenses mounting media and adds cover slips to decrease slide handling and risk of artifacts/bubbles
A 3-probe system for fast, accurate pipetting and slide well washing
Multi-drop individual well-to-well washing eliminates the risk of carryover or cross contamination
Ready-to-use reagents that can be directly loaded from our ZEUS ANA IFA test kit to the SP30 – no pour off!
Set up worklists quickly and easily with user-friendly, intuitive software
Software automatically calculates the amount of each reagent and dilution tubes required for each run
Point and click selection of controls, sample screens and titrations
Software indicates where to place the reagents in the racks
Scalability and flexibility to increase laboratory efficiency
The cover slipped slides are easily transferred to the dIFine, improving laboratory workflow
A bi-directional HL7 interface connects with your LIS to receive test requests and share the worklist with dIFine*
Traceability and safety to ensure confidence in your results
 Sample barcode reader for positive patient ID – reduces risk of errors by eliminating manual data entry
Software access with different user accounts and rights
Find Out More.
Learn about the ZEUS SP30, IFA slide processor for dIFine - the other component of the dIFine 30 system.

Contact ZEUS today at sales@zeusscientific.com or click below to find your ZEUS Scientific Representative.

* FDA 510(k) cleared.  All suggested results obtained with ZEUS dIFine must be confirmed by a trained operator.