Limitations of the Standard Two-Tiered Testing (STTT) Algorithm
In 1994, the Second National Conference on Serologic Diagnosis of Lyme Disease was held in Dearborn, Michigan.  The conference objective was to review the accuracy limitations in the serodiagnosis of Lyme disease. The conference outcome was the establishment of the Standard Two-Tiered Testing (STTT) algorithm which introduced an immunoblot as a second-tier test. The intended purpose of this second step was to verify any positive or equivocal (indeterminate) ELISA results thereby improving specificity and diagnosis accuracy.
In the STTT algorithm, specimens are initially assayed for antibody detection of Borrelia burgdorferi by methodologies such as indirect fluorescent antibody (IFA) or enzyme linked immunosorbent assay (ELISA), and equivocal or positive specimens are subsequently tested via second-tier immunoblots for detection of IgG and/or IgM antibodies.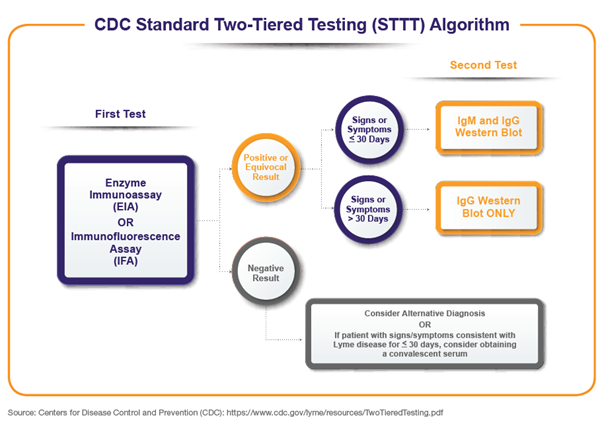 While relatively specific, the immunoblotting portion of the STTT algorithm contains drawbacks such as lack of sensitivity in detecting acute infection, interpretation subjectivity, and technically challenging procedures.
"Additional drawbacks [to a standard two-tier testing protocol] particular to the Western immunoblot component, include low sensitivity in early infection, technical complexity, and subjective interpretation when scored by visual examination."1
STTT has significant problems including:
Low sensitivity in the early stages of disease2
Subjectivity of result interpretation2
False positive results when using IgM immunoblots3

Gap in detecting 30+ days IgM+/IgG- Lyme positive samples

Hassle and costs of sending out blots and waiting days for results
Validating a Paradigm Shift to MTTT
Several published studies support the replacement of second-tier immunoblotting with a more sensitive and comparably specific methodology such as ELISA, referred to as a Modified Two-Tiered Testing (MTTT) algorithm.4-7
ZEUS Scientific embarked on a series of studies, retrospective and prospective, encompassing 3,288 patients to determine the ideal algorithm aimed at demonstrating improved sensitivity without having a negative impact on specificity.

ZEUS Borrelia MTTT® Advantages
Reduces the number of missed clinically positive patient samples

Removes burden of blots and subjectivity of readings

Enables simple and flexible first-tier and second-tier testing

Improves overall lab workflow and cost efficiencies, eliminating send-outs

Improves turnaround time
"Beyond improved sensitivity, the 2-EIA protocol offers several advantages compared with standard 2-tiered testing. The results are obtained objectively by an instrument system, and the information provided to the clinician is straightforward (i.e., the patient is either seropositive or seronegative), with an interpretation that is less complex than immunoblotting."8
ZEUS Scientific offers two MTTT algorithms to meet your testing requirements.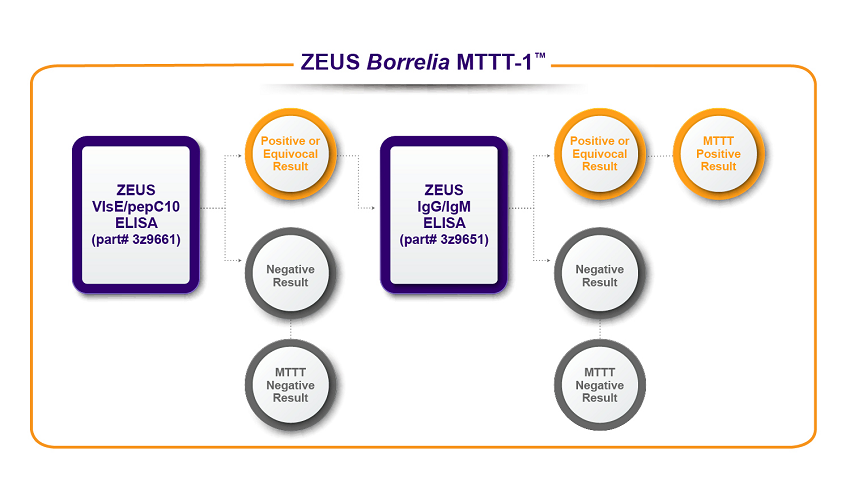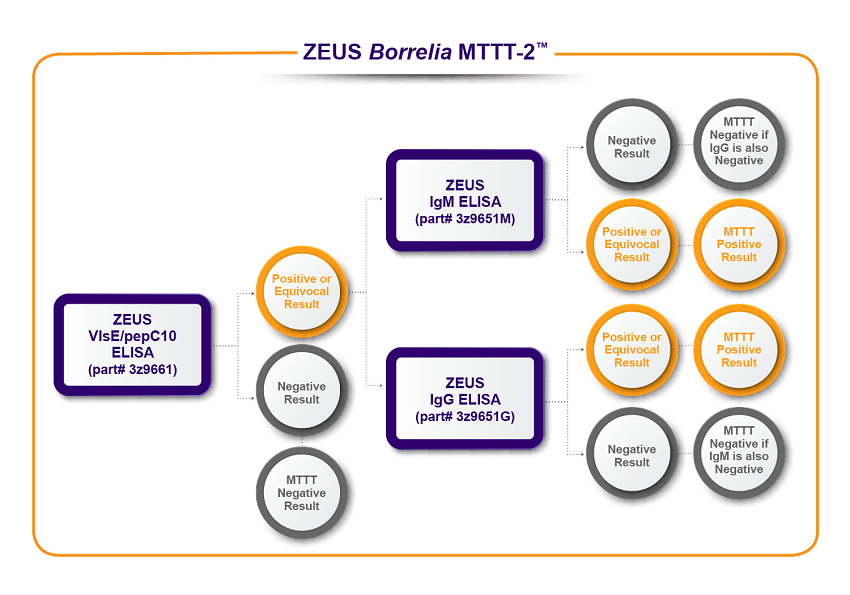 To learn more about the assays used in ZEUS Borrelia MTTT-1™ and ZEUS Borrelia MTTT-2™, click the product links below.
ZEUS ELISA™ Test Systems
(3Z9651G) B. burgdorferi IgG Test System
(3Z9651) B. burgdorferi IgG/IgM Test System
(3Z9651M) B. burgdorferi IgM Test System
(3Z9661) Borrelia VlsE1/pepC10 IgG/IgM Test System
Branda JA, Body BA, Boyle J, Branson BM, Dattwyler RJ, Fikrig E, Gerald NJ, Gomes-Solecki M, Kintrup M, Ledizet M, Levin AE, Lewinski M, Liotta LA, Marques A, Mead PS, Mongodin EF, Pillai S, Rao P, Robinson WH, Roth KM, Schriefer ME, Slezak T, Snyder J, Steere AC, Witkowski J, Wong SJ, Schutzer SE.  Advances in Serodiagnostic Testing for Lyme Disease Are at Hand. Clin Infect Dis 2018 Mar 19;66 7:1133-1139.

https:// academic.oup.com/cid/article/66/7/1133/4706288

Seriburi V, Ndukwe N, Chang Z, Cox ME, Wormser GP. 2012. High frequency of false positive IgM immunoblots for Borrelia burgdorferi in clinical practice. Clin Microbiol Infect 18:1236-1240

Porwancher RB, Hagerty CG, Fan J, Landsberg L, Johnson BJ, Kopnitsky M, Steere AC, Kulas K, Wong SJ. Multiplex immunoassay for Lyme disease using VlsE1-IgG and pepC10-IgM antibodies: improving test performance through bioinformatics. Clin Vaccine Immunol. 2011 May;18(5):851-9. doi: 10.1128/CVI.00409-10. Epub 2011 Mar 2.

Branda JA, Linskey K, Kim Y, Steere AC, Ferrano MJ. Two-Tiered Antibody Testing for Lyme Disease With Use of 2 Enzyme Immunoassays, a Whole-Cell Sonicate Enzyme Immunoassay Followed by a VlsE C6 Peptide Enzyme Immunoassay. Clin Infect Dis 2011; 53:541–547

Mollins CR, Delorey MJ, Sexton C, Schriefer ME. Lyme Boreliosis Serology: Performance of Several Commonly Used Laboratory Diagnostic Tests and a Large Resource Panel of Well Characterized Patient Specimens. J Clin Microbiol 2016; 54:2726-2734.

Branda JA, Body BA, Boyle J, Branson BM, Dattwyler RJ, Fikrig E, Gerald NJ, Gomes-Solecki M,Kintrup M, Ledizet M, Levin AE, Lewinski M, Liotta LA, Marques A, Mead PS, Mongodin EF, Pillai S, Rao P, Robinson WH, Roth KM, Schriefer ME, Slezak T, Snyder J, Steere AC, Witkowski J, Wong SJ, Schutzer SE. Advances in Serodiagnostic Testing for Lyme Disease Are at Hand. Clin Infect Dis 2018 Mar 19;66 7:1133-1139.

Branda JA, Body BA, Boyle J, Branson BM, Dattwyler RJ, Fikrig E, Gerald NJ, Gomes-Solecki M, Kintrup M, Ledizet M, Levin AE, Lewinski M, Liotta LA, Marques A, Mead PS, Mongodin EF, Pillai S, Rao P, Robinson WH, Roth KM, Schriefer ME, Slezak T, Snyder J, Steere AC, Witkowski J, Wong SJ, Schutzer SE.  Advances in Serodiagnostic Testing for Lyme Disease Are at Hand. Clin Infect Dis 2018 Mar 19;66 7:1133-1139