Expertise you can rely on.
Partner with the leader in driving innovation to improve Lyme disease testing results.
Lyme disease is a serious illness with potentially life altering repercussions if not treated quickly and appropriately. The team at ZEUS Scientific recognizes the importance of accurate Lyme disease testing and strives to make a difference for each and every patient.
ZEUS Scientific is founded on a belief in making a difference for every patient; this is the driving force that sets ZEUS apart. ZEUS does not accept the status quo and continually drives improvements in Lyme disease testing to provide superior products that assist in the timely and accurate diagnosis of patients.
Faster results = Earlier diagnosis = Better patient care
ZEUS Scientific has been the leader in pioneering new Lyme disease testing paradigms, with the first FDA-cleared Lyme serology test in 1987 to the first FDA-cleared Borrelia MTTT (Modified Two-Tiered Testing) algorithm in 2019. ZEUS Scientific has over 40 years of experience in developing, manufacturing and delivering high-quality in vitro diagnostic (IVD) products. The most recent all-ELISA ZEUS Borrelia MTTT® algorithm has been perfected to deliver optimal sensitivity and specificity delivering improved detection of early Lyme disease by up to 30%.
See the long history of how ZEUS has continued to drive innovation in Lyme disease testing.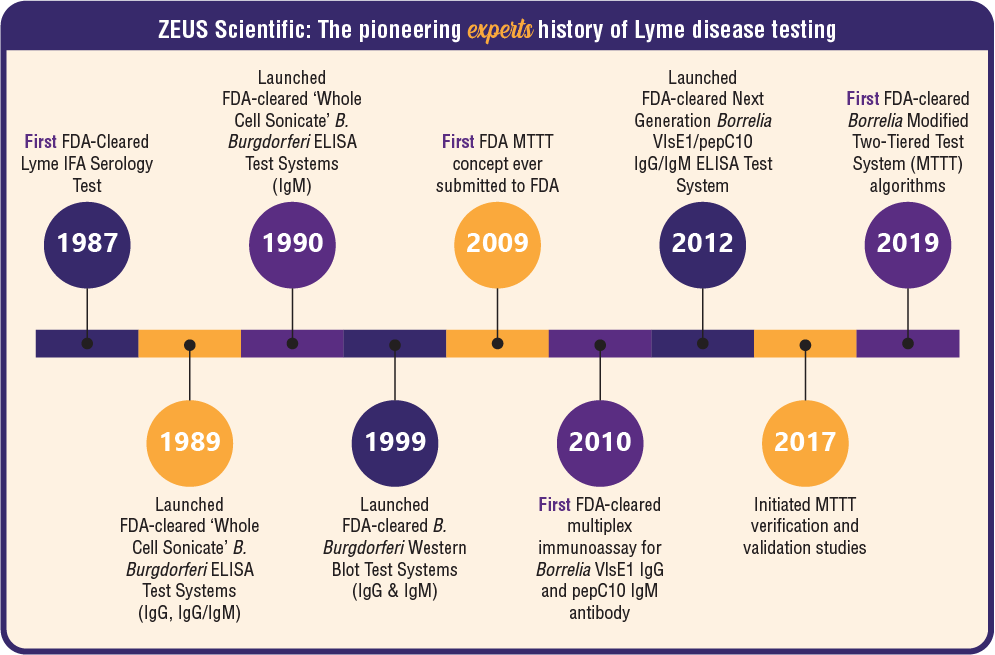 Your partner for over 35 years

ZEUS has been your consultant partner since 1987, providing exceptional technical support in person, on the phone or via email. Our team's combined over 35 years of experience translates to faster answers and solutions to questions and inquires you might have.

Leadership that makes a difference. Putting patients first.

ZEUS Scientific has continually focused on improving Lyme disease testing to ensure patients get access to the best results. With over 10 years' experience in the development and implementation of the latest improvement to Lyme disease testing, the Modified Two Tiered Algorithm, ZEUS has the expertise you deserve.

ZEUS Scientific provided the first MTTT concept submitted to the FDA, launched the first FDA-cleared Borrelia MTTT in 2019, and has over 2 years' experience helping labs implement the ZEUS Borrelia MTTT algorithm.  We have the expertise you need to seamlessly validate and implement ZEUS Borrelia MTTT into your lab today!

Learn how simple it is to implement ZEUS Borrelia MTTT!

Schedule your personalized consultation today!  Contact our technical support team at support@zeusscientific.com to make an appointment.

 

 

Order today!  zeuslyme.com | 1.800.286.2111 (US Toll-free) | orders@zeusscientific.com