Antibiotic Awareness Week & the importance of accurate diagnostic test results
Nov 20, 2020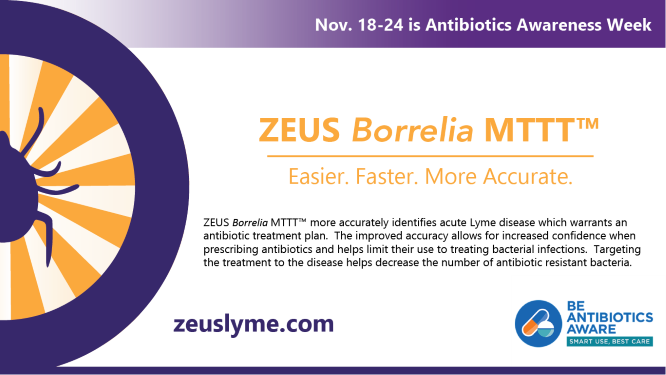 Help with the fight against antibiotic resistance. Accuracy matters. Early detection and appropriate treatment can make a world of difference.

US Antibiotic Awareness Week and World Antimicrobial Awareness Week is November 18-24th. This annual observance was created to increase awareness around antimicrobial resistance and highlight the importance of best practices for prescribing and taking antibiotics.

Antibiotics are used to treat bacterial infections, and while they are valuable and critical tools that can save lives, every time an antibiotic is used it can contribute to the development of antibiotic resistance. This has become an urgent public health threat. When an antibiotic is no longer effective against a microorganism, options for treatment become limited. The CDC's 2019 Report on Antibiotic Resistance Threats in the United States is a good reference for anyone interested in learning more about this topic1.

A couple of key steps that can be taken to help minimize antimicrobial resistance:



Healthcare Providers can ensure the appropriate laboratory diagnostic tests are done prior to prescribing an antibiotic to guide the best treatment.

Patients can adhere to full prescribing directions and notify physician of any side effects.


Providing your patients, or your physician customers with the most accurate diagnostic testing available is an important step in not only helping the patient recover, but also in the global fight against antibiotic resistance.

ZEUS Scientific has over 40 years of developing and manufacturing in vitro diagnostic (IVD) kits specifically used to aid in diagnosing infectious diseases. Many of these diseases can be treated with antibiotics. Lyme disease is a good example as the recommended treatment includes antibiotics. For Lyme disease, early diagnosis and treatment are very important and can help prevent late Lyme disease and the associated complex symptoms. Patients treated with the appropriate antibiotics in the early stages of Lyme disease typically recover rapidly and completely2.

The only FDA cleared Modified Two-Tiered Testing algorithm available: ZEUS Borrelia MTTT™ improves detection of early Lyme disease compared to the Standard Two-Tiered Testing algorithm.




Simpler.

ZEUS Borrelia MTTT™ uses two rounds of ELISA tests, which enable simple and flexible first-tier and second-tier testing in-house with an automation-friendly approach. This translates to simplified Lyme disease testing processes and improved detection of early Lyme disease. Earlier diagnosis equals earlier treatment.

Faster.

The ZEUS Borrelia MTTT™ reduces turnaround time, allowing patients to access much-needed treatment earlier. Without early treatment, Lyme disease can have a devastating impact on patients.

Better.

Our updated algorithm detected up to 30% more clinically confirmed positive patients in acute early Lyme disease, the most critical time to correctly identify the infection and treat with antibiotics! By more accurately identifying acute Lyme disease, MTTT™ helps ensure a targeted antibiotic treatment plan is prescribed therefore mitigating the misuse of antibiotics.

 

---

Test with Confidence. Test with ZEUS.

---

 

ZEUS Borrelia MTTT™ Advantages

Reduces the number of missed clinically positive patient samples, especially in early Lyme disease (stage 1 and 2)

Removes the burden of Western blots and subjectivity of reading and interpreting immunoblots

Enables simple and flexible first-tier and second-tier testing in-house

Improves overall lab workflow and cost efficiencies, eliminating send-outs

Improves turnaround time

Still using Lyme disease immunoblots in your laboratory? Take a look at the clinical data to see how ZEUS Borrelia MTTT™ can improve detection in early Lyme disease.

We can help you improve your ability to provide your physicians the right answers they need in less time. Contact us today!

Sincerely,
The ZEUS Scientific Family





References:
1. https://www.cdc.gov/drugresistance/pdf/threats-report/2019-ar-threats-report-508.pdf
2. https://www.cdc.gov/lyme/treatment/index.html

Replace difficult to read immunoblots with the new and improved method for Lyme disease testing

Call ZEUS Scientific at 1.800.286.2111 or visit zeuslyme.com to order.

 

---

 

#ICYMI

Watch the webinar Paradigm Shift in Lyme Disease Testing on-demand!

Learn about the importance of early Lyme disease detection and how a paradigm shift in testing can make a real difference to patients.



Daniel Zweitzig, Director of Research & Development at ZEUS Scientific reviews the history of Lyme disease and chronicles ZEUS's 33-year journey of pioneering new Lyme disease diagnostics from the first FDA-cleared Lyme Serology product to the first and only FDA-cleared Borrelia Modified Two-Tiered Testing (MTTT™) algorithm. He outlines several publications and activities that pointed ZEUS in the direction to validate a replacement of the Standard Two-Tiered Testing (STTT) algorithm. This STTT algorithm has documented shortcomings and has been the recommended Lyme disease serology algorithm for more than 25 years. Until now.

 
Back
Share