Move Forward with Confidence
Sep 4, 2020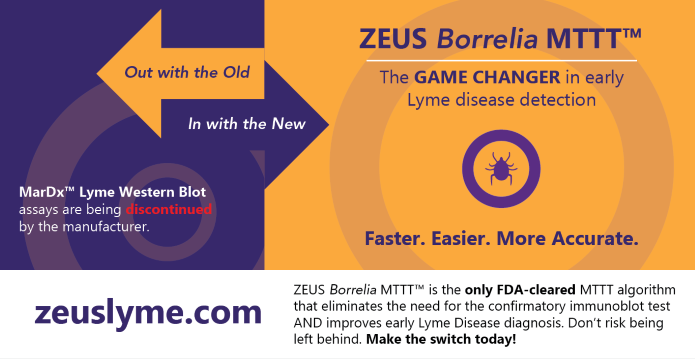 Move Forward with Confidence
As the game continues to change in Lyme disease diagnosis, the MarDx™ Lyme Western blot assays are being discontinued by the manufacturer.  Do not risk being left behind using an outdated Lyme disease testing algorithm.  Stay up to date with ZEUS Borrelia MTTT™ algorithm, the only FDA cleared MTTT algorithm that eliminates the need for the confirmatory immunoblot test AND improves early Lyme Disease diagnosis. See the clinical supporting data for yourself.

Faster, Easier, and More Accurate
The advantages of implementing ZEUS Borrelia MTTT™ are clear.  The all-ELISA algorithm is the simple, sensitive and specific alternative that is changing the game in Lyme disease testing.
ZEUS Borrelia MTTT™ Advantages
Reduces the number of missed clinically positive patient samples, especially in early Lyme (stage 1 and 2)
Removes the burden of Western blots and subjectivity of readings
Enables simple and flexible first-tier and second-tier testing in-house
Improves overall lab workflow and cost efficiencies, eliminating send-outs
Improves turnaround time
ZEUS Borrelia MTTT™ is a simpler, more cost effective, faster and better way to more accurately detect Lyme disease than using immunoblots. This updated algorithm detected up to 30% more positive patients in acute early Lyme disease, the critical time to correctly identify and treat!
Let us show you how to simplify your Lyme testing. Contact us today!
Visit zeuslyme.com to learn more.
Best,
The ZEUS Scientific Team
Back
Share