What's the catch to ZEUS Borrelia MTTT? No more Lyme disease immunoblots
Aug 26, 2021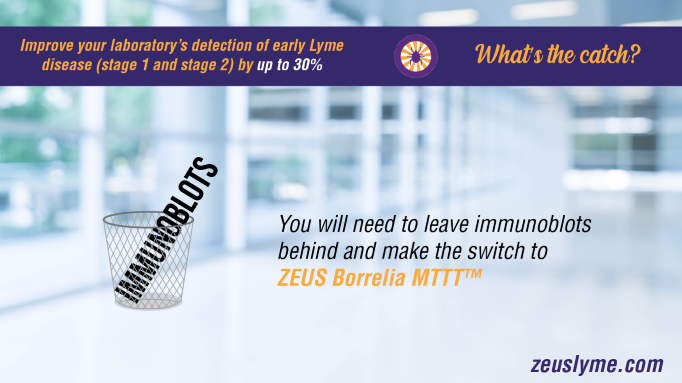 Want to improve your laboratory's detection of early Lyme disease (stage 1 and stage 2) by up to 30%?
There is a catch:
You will need to leave immunoblots behind and make the switch to the all-ELISA ZEUS Borrelia MTTT™ (Modified Two-Tiered Testing) algorithm.  If you are currently following the Standard Two-Tiered Testing (STTT) algorithm you already know that immunoblots are slowing down your workflow.  Whether you are running them, or you are sending out and paying another laboratory to run them, the facts remain that immunoblots are challenging, labor intensive, subjective and insensitive.  Now is the time to free your laboratory of the complications of immunoblot and see how you can achieve a better workflow, turnaround time (TAT) and clinical performance with ZEUS Borrelia MTTT™.  Say goodbye to send outs or say goodbye to running immunoblots in house.  Let ZEUS show you that, in this case, easier is better for your laboratory and for the patients.
ZEUS is the first company to obtain FDA clearance of this game-changing algorithm for Lyme disease diagnostics and is the only option with the expertise gained from years of experience with MTTT.
Do not get left behind, join the trend to a better way of Lyme disease testing.
Partner with ZEUS Scientific and implement our ZEUS Borrelia MTTT™ and leave immunoblots behind.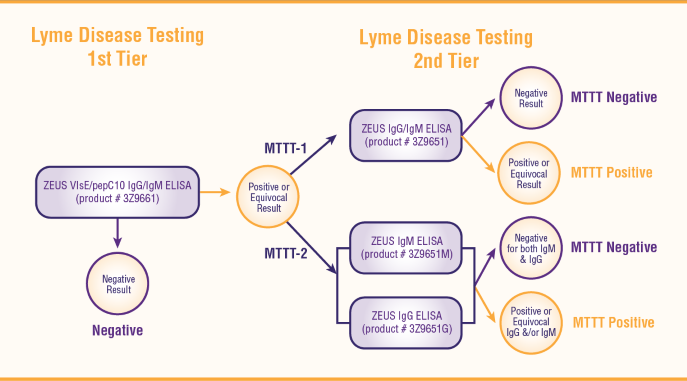 ---
Test with confidence.
Test with ZEUS.The pioneering experts in Lyme disease testing.
---
Order the ZEUS Borrelia MTTT™ algorithm today!  
Visit zeuslyme.com, call 1.800.286.2111, or email orders@zeusscientific.com.
Best,
The ZEUS Scientific Team
Back
Share