ZEUS ELISA™ SARS-CoV-2 IgG Test System Receives Expanded Automation Claims through FDA EUA
May 26, 2021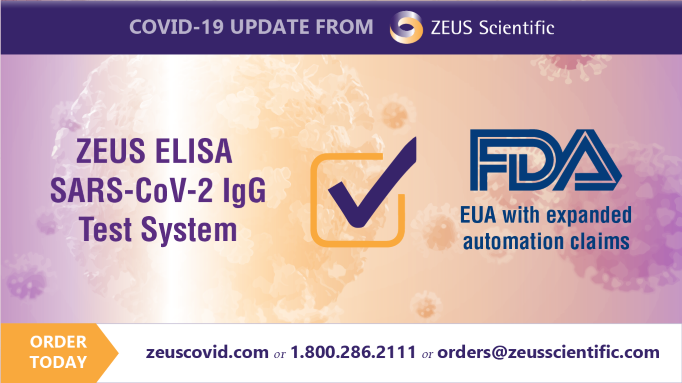 ZEUS ELISA™ SARS-CoV-2 IgG Test System Receives Expanded Automation Claims through FDA EUA
ZEUS Scientific has received Emergency Use Authorization (EUA) for additional automation claims from the U.S. Food and Drug Administration (FDA) for its in vitro ELISA diagnostic test for the qualitative detection of IgG antibodies to the SARS-CoV-2 virus in human serum and plasma.  The ZEUS ELISA SARS-CoV-2 IgG Test System assay utilizes a dual antigen combination of recombinant S1 receptor binding domain (RBD) viral protein and recombinant nucleoprotein that detects immune responses that other antibody tests may miss.
The SARS-CoV-2 IgG Test system was first granted EUA in October of 2020 to run the ZEUS SARS-CoV-2 IgG Test System manually or using the Dynex Agility® Automated ELISA System. The FDA has extended the EUA to include the Dynex DS2® and Dynex DSX® automated ELISA systems.
Combined with our recent FDA EUA authorized ZEUS ELISA SARS-CoV-2 Total Antibody Test System, ZEUS now provides a comprehensive portfolio of FDA EUA ELISA SARS-CoV-2 Antibody Tests that include full automation on the Dynex Technologies suite of instruments (DS2®, DSX®, Agility®).

---
 Test with Confidence. Test with ZEUS.
---
For over 40 years, laboratories have trusted ZEUS Scientific to provide high quality in vitro diagnostic immunoassays for numerous infectious diseases. With over 125 U.S. FDA cleared assays in our menu, our company has a proven skillset of developing, manufacturing and distributing a family of products to aid in the diagnosis of complex infectious agents including a variety of known viral pathogens.
Learn more at zeuscovid.com or contact our sales team for pricing today!
Sincerely,
The ZEUS Scientific Family
FDA EUA Disclaimer: These tests have been authorized only for the presence of IgG antibodies and Total antibodies against SARS-CoV-2, not for any other viruses or pathogens. These tests have been authorized by FDA under an EUA for use by authorized laboratories. These tests have not been FDA cleared or approved; These tests are only authorized for the duration of the declaration that circumstances exist justifying the authorization of emergency use of in vitro diagnostics for detection and/or diagnosis of COVID-19 under Section 564(b)(1) of the Food, Drug and Cosmetic Act, 21 U.S.C. § 360bbb-3(b)(1), unless the authorization is terminated or revoked sooner.
Back
Share